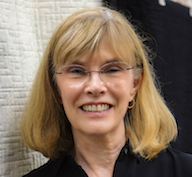 Linda Rasmussen has had a lifelong love of sewing and needlework of all kinds. She started making clothing in middle school and attended Iowa State University in Ames, Iowa, where she received a Bachelor's of Science in Home Economics. After moving to Southern California in the 1970's, she began quilting and was hooked. Since that time, she has taught classes locally in many methods and techniques related to quilting. In 2001 she began to judge quilt shows and has taken both the NQA Short Course on Judging and the Northern California Council of Quilt Guilds Judging Course.
In her spare time, Linda takes classes from many nationally known quilters to expand her base of knowledge of quiltmaking of all sorts. Traveling to quilt shows across the nation is also one of Linda's passions. She loves to see what is new and exciting in the world of quilting.
Linda is an award winning quilter who has exhibited at Road to California in Ontario, California, and at the AQS Show in Paducah, Kentucky. Most of her work is traditionally-based, but she continues to explore her artistic side with new and experimental techniques.
2013
Seven Sisters Quilt Show —

San Luis Obispo, CA
2012
Desert Quilters Quilt Show —

Las Vegas, NV

Best of the Valley —

Lindsey, CA

Seven Sisters Quilt Show —

San Luis Obispo, CA

San Bernardino County Fair —

Victorville, CA

Flying Geese Challenge —

Irvine, CA

Beach Cities Challenge —

Mission Viejo, CA

Ventura County Fair —

Ventura, CA

Tri County Fair —

Bishop, CA
2011
Ventura County Fair —

Ventura, CA

Tri County Fair —

Bishop, CA

Flying Geese Quilt Show —

Costa Mesa, CA

Rim Country Roundup Quilt Show —

Payson, AZ
2010
Desert Quilters Quilt Show —

Las Vegas, NV

Best of the Valley Quilt Show —

Lindsey, CA

Beach Cities Quilt Evaluation —

San Juan Capistrano, CA

Ventura County Fair —

Ventura, CA

Busy Bears Quilt Show —

Big Bear, CA
2009
Inland Empire Quilt Show —

Corona, CA

San Bernardino County Fair —

Victorville, CA

Ventura County Fair —

Ventura, CA

"Spirit of the Land Exhibition" —

Frazier Park, CA

Busy Bears Quilt Guild Show —

Big Bear, CA

Orange County Quilt Guild —

Anaheim, CA

Flying Geese Quilt Guild —

Orange County, CA
2008
Cotton Patch Quilt Show —

Bakersfield, CA

Valley Quilters Show —

Hemet, CA

California State Fair —

Sacramento, CA

Ventura County Fair —

Ventura, CA
2007
Valley Quilters Quilt Show —

Hemet, CA

Glendale Quilt Guild Show —

Glendale, CA

Best of the Valley Quilt Show —

Tulare, CA

Nite Owls Quilt Guild Show —

Ontario, CA
2006
Cotton Patch Quilters Quilt Show —

Bakersfield, CA

Valley Quilters Quilt Show —

Hemet, CA

Glendale Quilt Show —

Glendale, CA

San Bernardino County Fair —

Victorville, CA

Beach City Quilters Show —

Orange County, CA

Pacific International Quilt Festival —

Santa Clara, CA

Rim Country Quilt Show —

Payson, AZ
2005
Road to California —

Ontario, CA

Glendale Quilt Show —

Glendale, CA

Hoffman Challenge, Orange County, CA
Marin Quilt and Needle Arts Show —

San Rafael, CA

Pacific International Quilt Festival —

Santa Clara, CA

Nite Owl Quilters Guild Quilt Show —

Upland, CA
2004
Coastal Quilters Guild Harvest of Colors Quilt Show —

Santa Barbara, CA
2003
Los Angeles County Fair —

Pomona, CA

Designing Ladies —

Burbank, CA
2002
Los Angeles County Fair —

Pomona, CA
2001
Nite Owl Quilters Guild Quilt Show —

Upland, CA